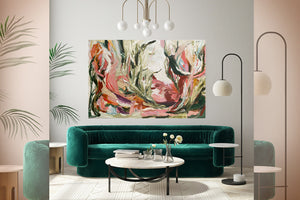 Art Your Residential / Commercial Space
Helen Katavatis is an Australian, Melbourne based Abstract Expressionist Artist and clothing designer. Art and design for Helen has been an instinctive-creative process all her life.
She is owner and designer of Cubec Clothing, an Australian made, premium women's suit and shirt fashion label, established in 1999. She is known for her intrinsic ability with colour, this is evident in her textile prints and designs which translate to her abstract Artwork. Her statement art pieces and clothing are enjoyed by her clients worldwide.
Inspired by visual memories of growing up bayside,travel experiences and the forms, colour, and shapes of our natural surrounds. Intuitive and spontaneous energy is her approach to creating unique, gestural and thickly textured contemporary compositions. Each piece unfolds organically, revealing its own story.